Before Committing to a DMV Swim School, Get All the Info You Need
Health. Safety. Community. Confidence. Learning how to swim offers numerous benefits. Not all swim schools are created equal, though. Before choosing a swim school, make sure you know what questions to ask. The answers to these questions will determine if you or your loved one has a positive, successful, safe swimming experience.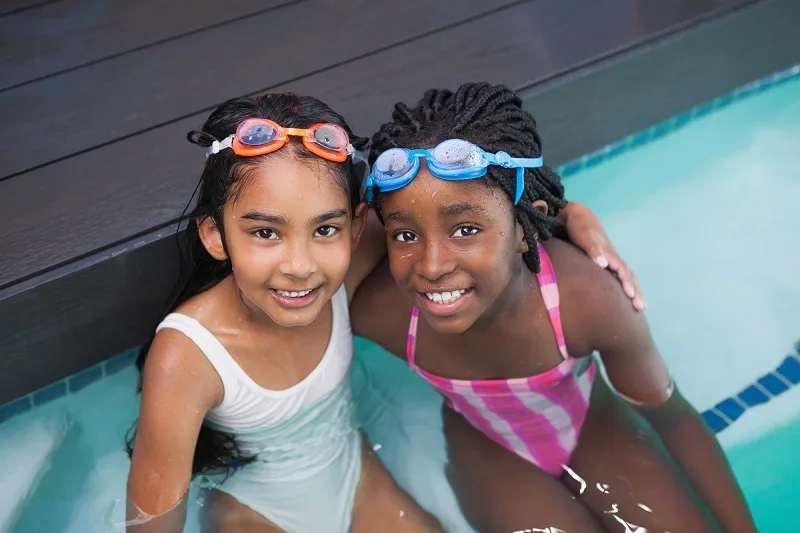 5 Must-Ask Questions When Choosing a Swim School
Before you say yes to any swim school, make sure you know the answers to these questions:
1. How do you choose your swim instructors?
Your specific swim instructor has a huge influence on your experience learning how to swim. Whether you're securing swim lessons for yourself or a loved one, make sure whatever swim school you choose is selective and careful about how they vet their swim coaches.
Prioritize a swim school that chooses instructors who are:
Strong, experienced, competent swimmers

Experienced in coaching, mentoring, or teaching

Communicative

Nurturing

Relationship-minded

Patient
Want to get to know our team better? Check out all our WeAquatics swim instructors.
2. What kind of training is required for your swim coaches?
Safety should be priority number one for any swim school. All swim instructors should be put through enough training and certification to properly, effectively, and safely teach that lesson.
Some types of swim lessons, including Infant Swimming Resource classes, require specialized certifications. Other types of training, including CPR, should be done by all instructors.
Ask any swim school you're considering what kind of training their instructors go through before they are allowed to hit the pool with students.
3. How many students are in each swimming lesson?
The size of your swimming class directly affects your experience in the pool. Unless you're specifically looking for a swim team experience, private swim lessons offer many benefits:
Students of all swimming abilities are welcome because the coach doesn't need to navigate different skill levels within the same lesson.

Every lesson is personalized to you and your goals. More confidence in the water. Improved stroke technique. Basic skill mastery, including floating and treading water. With private swimming lessons, you can work toward whatever you want to accomplish.

Progress is faster and more effective. The instructor works with you alone and can dedicate the entire lesson to your improvement.

Swim lessons are a no-judgment zone. There's no discomfort or embarrassment, which can be problems in group swim lesson settings.
If those advantages matter to you, opt for the swim school that provides one-on-one lessons in the pool.
4. Will all swim lessons include the same swim coach?
Learning how to swim requires a lot of trust between the student and the coach. That's why consistency among swim instructors is so important throughout the duration of lessons.
Having the same coach week in and week out means the swim student has a chance to get to know and to trust that swim instructor.
The student knows how the instructor likes to run a class. There also isn't any downtime learning about the student's current skill level, goals, or learning style.
When the same coach works with a student every week, everything becomes more consistent, predictable, and productive.
At WeAquatics, our infant swim lessons and our Learn-To-Swim classes are private, and students can expect the same teacher every week.
Of course, in the event of illness or extenuating circumstances, a new instructor will step in. For the most part, though, students can rely on working with the same coach.
5. How often (and long) are the swim lessons?
Everyone is busy. It's important to understand the logistics and commitment of your swim lessons.
Our infant self-rescue swim lessons, for example, are only ten minutes each, but we recommend the lessons five days a week.
Our Learn-To-Swim classes, on the other hand, are thirty minutes once per week.
Before selecting a swim school, make sure you know what kind of a commitment their swim lessons will be.
Want to Ask Us about Our DMV Swim School?
Interested in learning more about WeAquatics and whether it's a good fit for your swim lesson needs?
Don't hesitate to reach out to us. We're always happy to answer your questions!