How Every Detail of WeAquatics Is Built with the Student in Mind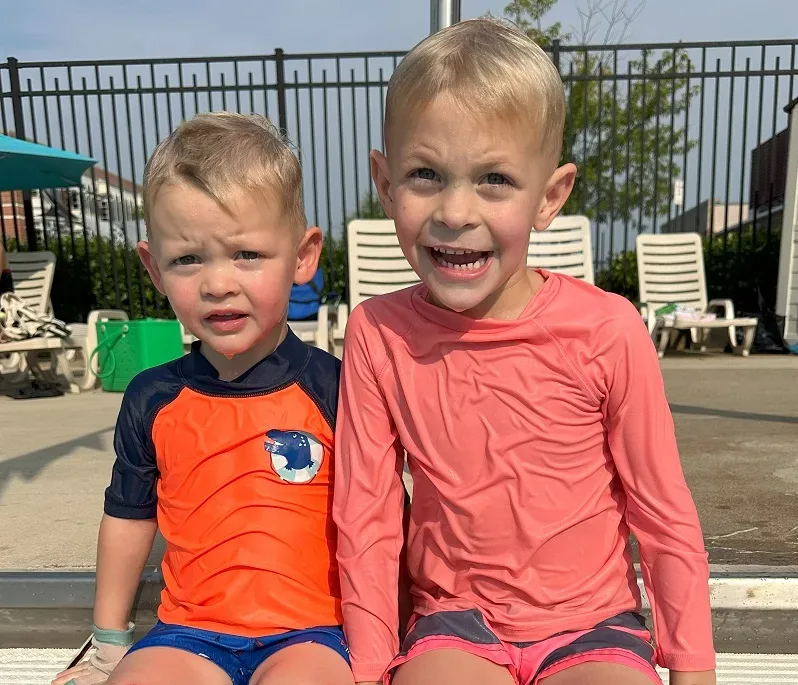 When it comes to providing exceptional swim education in the DC, Maryland, and Virginia areas, WeAquatics stands out as an industry leader. We realize families have a choice of swim schools, and we pride ourselves on going the extra mile to ensure a successful, enjoyable swimming experience.
Our commitment to quality, safety, and personalized learning experiences sets us apart. In order to serve our community best, we offer private infant/toddler survival swim lessons and Learn-To-Swim classes from multiple locations. Wherever you enroll, our goal is for you to have the same dedicated instructor every week.
Here are just a few reasons WeAquatics makes a big splash with families diving into the swim school experience. 
The First Splash: Private Infant Swim Safety Lessons
For the best success, infants must be introduced to water in a safe, nurturing environment. Our private infant swim lessons are designed to make the transition to independent behaviors in the water. This is an efficient and methodical process that is relatively easy for our youngest students to master. Some students don't find survival swim lessons enjoyable. But the main point is not to have fun, it is drowning prevention. Our aim is to give parents a few more seconds to recognize that their child is in the water alone and to get to them before the unthinkable happens. 
Individualized Attention: Each infant is unique, and our instructors tailor their approach to suit the child's temperament and needs. Private lessons ensure your child receives the focused attention required for a successful introduction to the water.
Consistency Is Key: We believe in building trust and familiarity between the child and instructor. That's why our infant swim lessons feature the same teacher every week. This consistency allows you and your child to develop a strong bond with the instructor, promoting a sense of security and comfort in the water.
Safety First: Each of our instructors is trained to prioritize safety at all times. We teach infants essential water safety skills, including breath control and floating techniques. Parents also play a vital role in learning by becoming more water aware.
Diving into Confidence: Learn-To-Swim Classes 
As children grow, it's essential to continue their swim education in a structured, progressive manner. Our Learn-To-Swim classes offer a personalized approach that ensures your child's success in becoming a confident swimmer. 
Continuity of Instruction: Just like our infant swim lessons, our Learn-To-Swim classes feature the same instructor every week. This continuity allows instructors to track students' progress closely and to adapt the lessons to their needs. In some instances, we have no choice but to provide substitute instructors when our regular instructors are absent, but no matter who you work with, our goal is still high-quality instruction.
Building Trust: The water can be a scary place for some children. The relationship between a student and the swim instructor must be built on trust. By working with familiar instructors week after week, we foster a sense of trust and comfort in the learning process. This is crucial for skill development and confidence building.
Skill Progression: Our Learn-To-Swim program is structured to ensure students progress at their own pace. Instructors assess each student's abilities and adjust the curriculum accordingly, guaranteeing no child is left behind in the journey to mastering strokes.
Dive Right In: The Power of Short, Sweet Lessons
Learning to swim should be an enjoyable, productive experience for every family. That's why we've designed our lessons to be short and consistent. Here's how this approach benefits both parents and children:
Time-Efficient: Your time is valuable. Our lessons are structured to deliver maximum value in a relatively short amount of time. This means you can fit swim lessons into your busy schedule without feeling overwhelmed.
Minimal Distraction: Focused lessons help children stay engaged and attentive. We believe in quality over quantity, ensuring every minute of the lesson is dedicated to skill development.
Progress Tracking: With consistent lessons, it's easier to track your child's progress. You'll see steady, rewarding improvements week after week.
Building Confidence: Consistent lessons provide a sense of routine and predictability for children. This consistency helps build their confidence in the water, making each lesson an enjoyable and positive experience.
Riding the Waves of Excellence: Why WeAquatics Swim School Leads the Pack
So, what makes WeAquatics the leading choice for swim education? It's our unwavering commitment to providing the best possible learning experience for every child. That begins with our certified instructors, but they're just the tip of the iceberg.
Experienced, Certified Instructors: Our team of instructors includes certified professionals who are not only passionate about teaching but also well equipped to ensure your child's safety and skill development in the water. All our instructors hold Red Cross lifeguard certifications, demonstrating their expertise in water safety and rescue techniques. They also have received comprehensive in-house training, further enhancing their ability to provide a secure learning environment.
Infant Swimming Resource™ Certified: Every Infant Swimming Resource (ISR) instructor on our staff is certified. ISR lessons are specifically designed to teach infants and toddlers essential self-rescue skills, emphasizing water safety from the earliest stages of a child's life.
Adaptive Swim Whisperers® Certification: A growing number of  our instructors are training to achieve an Adaptive Swim Whisperers® Certification. This certification equips our instructors with valuable skills and knowledge to adapt their teaching methods for individuals with varying abilities. This ensures every student, regardless of any unique needs, receives the best possible swim education. At WeAquatics, our instructors are not just certified; they are committed to  safety, growth, and enjoyment in the water.
Year-Round Facilities: Our multiple locations feature high quality facilities, including clean and well-maintained pools. We ensure the learning environment is safe, comfortable, and conducive to skill development.
Private Swim Lessons: Our one-on-one swim lessons provide individualized attention and maximum learning outcomes.
More About WeAquatics
Safety Emphasis: Safety is at the forefront of our curriculum. We teach essential water safety skills to both children and parents. This empowers all students to be safe around water.
Community and Family Involvement: WeAquatics is more than just a swim school; it's a community of parents and students committed to water safety and education. We encourage family involvement by partnering with the schools of some of our students as well as community organizations to donate lessons to raffles and other fundraisers. 
Affordable Pricing: We believe high-quality swim education should be accessible to all. Our pricing is competitive, and we offer payment options to accommodate different budgets.
Proven Success Rate: Our reputation as a renowned leader in survival swim training is not just based on our dedication but on our exceptional track record. We take immense pride in our high success rate, which is a testament to our commitment to providing the best swim education.
Your Convenience Is Key: Easily Accessible Locations across the DMV
One of the cornerstones of WeAquatics is our commitment to convenience. We understand parents have busy schedules, and driving miles in heavy traffic to get to a swim lesson can be daunting. That's why we've strategically placed our multiple locations in easily accessible areas across the Washington Metropolitan area.
We have thoughtfully selected locations to make them convenient for every parent and child, ensuring you spend less time commuting and more time enjoying the benefits of our swim education program.
Whether you live in the heart of the city or the suburbs, there's a WeAquatics location nearby. We do everything possible to make incorporating swim lessons into your family's routine a breeze. This accessibility saves you time and reduces the stress associated with navigating congested streets. That way, you can focus on what truly matters—your child's swim education
From First Splashes to Confident Strokes. Book a Class Today with Our Swim School!
At WeAquatics, we're not just a swim school. We're your family's gateway to a lifelong, confident relationship with the water.
Our commitment to safety, consistency, and success is evident in every ripple of progress our students make. From those first splashes to confident strokes, we're here, nurturing a love for swimming that lasts a lifetime. Join us, and let's make your child's journey in the water extraordinary.
Sign up for a class today. Experience the WeAquatics difference for your family.