Get to Know WeAquatics Swim Instructor Lindsey Deutsch
From the Pool to the Sky, Deutsch Aims to Inspire Young Women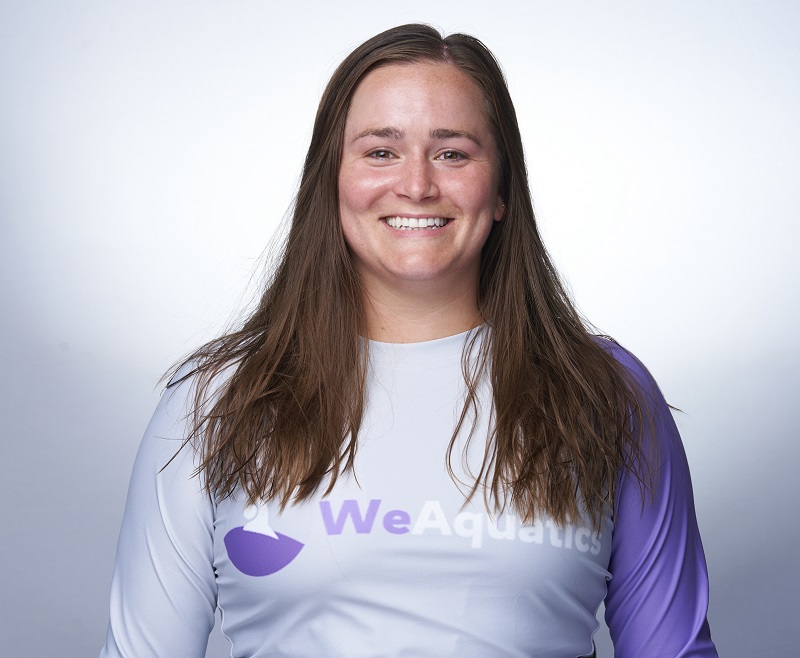 The WeAquatics team is so excited to welcome a new group of experienced swim instructors to our family. Today, we shine a spotlight on one of these coaches, Lindsey Deutsch. Read on to learn all about her journey as a swim instructor, as well as her inspiring message to young women.
Lindsey's Early Swimming Days
Lindsey Deutsch grew up in the Pacific Northwest and began swimming at the age of four with the Fairwood Baby Barracuda team outside Seattle, Washington.
"I always really liked swimming. All my friends were on the swim team, and I enjoyed that team aspect," says Lindsey. "I also liked that I could be outdoors. Especially where I grew up, there's water everywhere. In the summer, all you want to do is get outside, and you never want to be that one kid who can't swim!"
The Transition to Swim Coaching
Starting in high school, Lindsey turned her passion for swimming into the beginning of her coaching career. She served as both a lifeguard and a group swim instructor at her local community center.
Turning Tragedy into Something Positive
A water-related tragedy in Lindsey's past changed her perspective and the course of her coaching career.
"When I was growing up, one of my good friends drowned. It was so avoidable," says Lindsey. "There were lots of friends and people around, but it still happened. It made me really passionate about helping people learn how to swim, especially when they're little. It's such an important life skill."
4 Benefits of Learning How to Swim
Lindsey sees many advantages to learning how to swim:
1.Having Fun
Plain and simple. Swimming is an extremely fun sport! Whether you're swimming individually or competing in a group setting, it's an enjoyable experience for anyone of any age.
2. Possessing a Survival Skill
Swimming is undeniably fun, but it's also an important life skill. Being confident and competent in the water means you're prepared in many situations. It can be a lifesaving skill.
3. Building Friendships
Joining a swim team is a great way to make friends. Being on the same team also means you have a healthy, productive, fun activity to do together.
4. Keeping Active
For adults, swimming offers just as many benefits as it does for children. (It's equally as fun and a great way to meet people.) It's also a low-impact activity you can enjoy at any age. Want even more details? Check out this article about the benefits of swimming for older adults.
(Interested in a slightly different perspective? Check out what WeAquatics instructor Danielle Jackson sees as her top five benefits of swimming lessons for kids.)
Lindsey's Approach as a Swim Instructor
Combining her personal love of the sport and her motivation to teach this important survival skill, Lindsey's focus as a coach lies with the youngest learners.
"I love working with the little kids, especially the ones who are scared. I like working with the scared ones," she smiles. "I really enjoy showing them how fun swimming can be. I'm always excited to spread the knowledge of swimming to the next generation."
Life Outside the Pool
Beyond the swim lanes, Lindsey is also a pilot and a full-time air traffic control specialist for the Federal Aviation Administration. She studied aviation in Anchorage, Alaska, receiving her associate's degree in air traffic control and a bachelor's degree in aviation technology.
During that time, she also obtained her private pilot's license, as well as her instrument and seaplane ratings. She is currently working toward her commercial pilot's license.
"Eventually, I'd love to become a flight instructor as well," says Lindsey. "I'm really just finding different ways to make money doing what I love."
Lindsey's passions include getting young women, especially preteens, interested in aviation.
"Not many little girls think of air traffic control, but it's a great job. The pay is equal, and the benefits are good," says Lindsey. "I love playing any role I can getting more young women involved in STEM, even if that's just letting them know they can do this job too."
With COVID-19 restrictions, tours of the facility where Lindsey works aren't currently happening. If you're interested, though, feel free to contact her. She can help arrange a facility tour once available:
Email: lindsey.deutsch@gmail.com
Meet More of the WeAquatics Family
Want to meet more of our instructors? Check out these previous spotlights:
Ready to Start Swim Lessons?
Interested in learning more? Check out the available WeAquatics swim classes. Want to work with Lindsey? Have questions? Enroll today, or feel free to reach out!